Understanding Debt Consolidation Loans in Singapore - Should You Go With Private Money Lenders?
A debt consolidation loan allows you to combine all your debts into a single, lower interest rate loan. It is particularly beneficial when you have high-interest rates debts. Combining your debts this way allows you to lower your monthly payment and makes it easier for you to afford your monthly bills. There are several different types of loans you can use to consolidate your debt.
Who Can Apply For Debt Consolidation Loans in Singapore?
Individuals, businesses alike can apply for a debt consolidation loan. Depending on your requirements, the debt consolidation loan could be structured differently.
9 Best Debt Consolidation Loans in Singapore You Can Take Up
1) 96BM Credit Pte Ltd Debt Consolidation Loan/Plan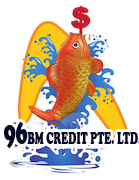 As a licensed moneylender in Singapore, 96BM Credit Pte Ltd provides fuss-free debt consolidation loan in Singapore.
Our clients choose us because of how fast we approve their loans. 
Additionally, with extremely reasonable interest rates as low as 2.27% simple interest per month, it will ensure that your debt consolidation loans will remain extremely affordable for you to pay off.
Maximum Loan Amount: $300,000
Maximum Loan Repayment Period Allowed: 2 Years
Minimum Interest Rate: 2.27% per month
Processing Fee Required: up to 10%
Early redemption penalty: Nil
Approval duration: 30 minutes to 1 hr
2) Standard Chartered Debt Consolidation Loan/Plan
Maximum Loan Amount: $500,000
Maximum Loan Repayment Period Allowed: 10 years
Minimum Interest Rate: 3.98%
Processing Fee Required:$199
Early redemption penalty: Nil
Approval duration:3-5 months (based on past records)
3) HSBC Debt Consolidation Loan/Plan
Maximum Loan Amount: $500,000
Maximum Loan Repayment Period Allowed: 10 years
Minimum Interest Rate: 3.8%
Processing Fee Required: $0
Early redemption penalty: Nil
Approval duration: 3-5 months (based on past records)
4) Bank of China Debt Consolidation Loan/Plan
Maximum Loan Amount: $500,000
Maximum Loan Repayment Period Allowed: 10 years
Minimum Interest Rate: 7%
Processing Fee Required: $600
Early redemption penalty: Nil
Approval duration: 2-4 months (based on past records)
5) CitiBank Debt Consolidation Loan/Plan
Maximum Loan Amount: $500,000
Maximum Loan Repayment Period Allowed: 5 years
Minimum Interest Rate: 4.05%
Processing Fee Required: $0
Early redemption penalty: Nil
Approval duration: 3-5 months (based on past records)
6) UOB Debt Consolidation Loan/Plan
Maximum Loan Amount: $500,000
Maximum Loan Repayment Period Allowed: 5 years
Minimum Interest Rate: 4.5%
Processing Fee Required: $0
Early redemption penalty: Nil
Approval duration: 3-5 months (based on past records)
7) DBS/POSB Consolidation Loan/Plan
Maximum Loan Amount: $500,000
Maximum Loan Repayment Period Allowed:5 years
Minimum Interest Rate: 4.58%
Processing Fee Required: $99
Early redemption penalty: Nil
Approval duration: 3-5 months (based on past records)
8) OCBC Consolidation Loan/Plan
Maximum Loan Amount: $500,000
Maximum Loan Repayment Period Allowed: 96 months
Minimum Interest Rate:4.5% per annum
Processing Fee Required: $25
Early redemption penalty: 5% of outstanding loan amount
Approval duration: 1 month( they claim on their website)
9) Hong Leong Bank Debt Consolidation Loan/Plan
Maximum Loan Amount: $500,000
Maximum Loan Repayment Period Allowed: 10 years
Minimum Interest Rate: 3.8%
Processing Fee Required: $0
Early redemption penalty: Nil
Approval duration: 2~3 months
Frequently asked questions about debt consolidation loans in Singapore